Tcom iWALK Scorpion X 12000mAh Ultra Slim Qualcomm QC3.0 Built-in Lightning, Micro USB, Type-C Cable PowerBank
Price

RM189.00

RM269.00

Brand
iWALK
Availability
In Stock

Colour

Quantity
Description
Highlight
Forget to bring cables? No worries. You don't have to carry any cable. You can simultaneously charge Apple and Android devices at high speed. Share your cables and your power. Charge anytime anywhere.
Keep yourself and your family safe with our advanced safety protection features such as over charge, short-circuit, overheating, excess current and surge protection
World's most unique stylish designed power bank with built-in 4 cables. Made for each other, it matches well with your Apple or Android phone
Elegant appearance with easy grip. Nice to hold and experience its graceful finishing touch.

???Product Description :
iWALK power bank is Apple MFi Certified quality. Apple recommends using only accessories that Apple has certified. iWALK power bank uses original iPhone Lightning which has been certified by Apple as original. It ensures 100% compatibility and syncs with any Apple devices

With the built-in USB charging cable, the Scorpion X can easily be charged without an additional charging cable. All built-in output and input cables of the Scorpion X are fitted with pass-through technology, which allows the power bank to be used as a complete charging cable between devices and a charger.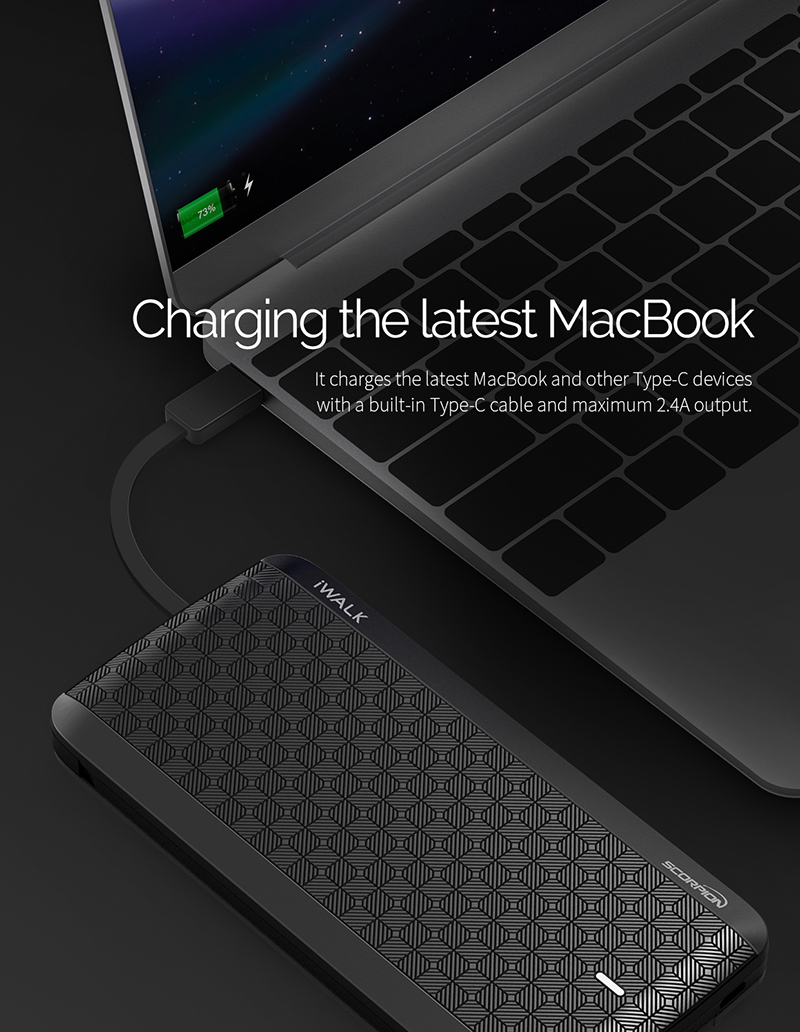 Features :
12000mAh power bank with four built-in cables: Lightning cable, micro USB cable, USB-C cable and USB charging cable.
up to three devices simultaneously can be charged
The Scorpion12000X is Qualcomm Quick Charge compatible, allowing new Android devices to be recharged up to 2 times faster.
On the front of the Scorpion a status indicator is incorporated, which shows how much power is still available in the power bank.
MFI certified and ideal for charging iOS devices.

Specifications :
Product name: Scorpion12000X
Model No.: Scorpion12000X
Battery type: Lithium Polymer Battery
Capacity: 3.7V 12000 mAh (29.6WH)
Support: iOS10
DC-IN : 5V / 1A~2.4A , Supporting FCP and Qualcomm 3.0
DC-OUT: 5V / 1A~ 2.4A (TotalMax)

- Lightning: 5V/2.4A
- Micro USB: 5V/2.0A
- Type C: 5V/2.4A ,Supporting FCP and Qualcomm 3.0

Size : 160 x 76 x 15 mm
Weight: 258 gram
Compatibility General:
Apple: iPhone8, iPhone7,iPhone7 Plus , iPhone6S, iPhone6SPlus, iPhone6, iPhone6Plus, iPhone5S,iPhone5C, iPhone5 ,iPad Mini, New iPad, iPad 2, iPhone, iPhone 2007, iPhone 3G, iPhone 3GS,iPhone 4, iPhone 4S,iPod 3G, iPod 4G, iPod Classic, iPod Color, iPod Mini, iPod Nano, iPod Nano 2G, iPod Nano 3G,iPod Nano 4G,iPod Nano 5G, iPod Nano 6G, iPod Photo, iPod Shuffle, iPod Shuffle 2G, iPod Touch, iPod Touch 2G,iPod Touch 3G, iPod Touch 4G, iPod Video
All USB-Based devices.

Package Contains :
1 x Tcom iWALK Scorpion X 12000mAh Ultra Slim Qualcomm QC3.0 Built-in Lightning, Micro USB, Type-C Cable PowerBank

Warranty Period : 1 Month
Warranty Type : Local Supplier Warranty
Reviews (0)
view all
back
What's in the box
1 x Tcom iWALK Scorpion X 12000mAh Ultra Slim Qualcomm QC3.0 Built-in Lightning, Micro USB, Type-C Cable PowerBank